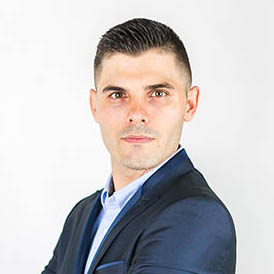 Gerard Gracia Arcas
Founder Newvideo and Premios Vlogger | Author, Advisor, Speaker, Professor | Digital, Video Marketing, New Business
Selected Top 50 Spanish Talent 2015 — Author "ThinkVideo: Smart Video Marketing & #Influencing" — +9 years experience in Startup's and Digital Marketing — www.gerardgracia.com — Follow me on Linkedin.
My Mission: Empowering New Generation Companies
I'm the founder of Newvideo Congress, #1 European forum about video marketing & video influence, I also founded Vlogger Awards, the #1 annual awards that reward best vloggers by industry in Spain.
Some brands and organizations we have worked with are Atresmedia ( La Sexta, Antena 3, Atresplayer ), El Corte Inglés, Accor Hotels, B The Travel Brand, Totto, JCDecaux, IAB Spain, Dircom, Obra Social "La Caixa".
During 2008 to 2013, I co-founded several projects such as events with RedBull as a main sponsor, a clothing brand for teenagers with a showroom in Barcelona and exclusive amenities for luxury hotels.
After these learnings, we found out that the digital market was growing.
We bought 3 premium domains and co-founded the following classified sites: Parkings.com, Cascos.net and Gimnasios.es.
I have also tried many things that failed, but at the same time I learnt many important skills for success and learnt how to manage and motivate teams.
I'm living the revolution of the tech, video and digital era, where content and context play a key role in achieving business and brand success.
I'm fascinated by technology, business and marketing strategy.
Honorary Member of the Video Experts Academy
Speaker:
· Barcelona Games World, Barcelona – October 2016
· Newvideo Congress, Madrid – Septembre 2016
Last but not least, my mindset.
Everyday is an opportunity to try, learn and share.